Buy Thick rubber base for gel Polish Ubeauty Super rubber base 15 ml without sticky layer whosale and retail
UBEAUTY Super rubber base no wipe. 
Thick rubber base of the Skirt without a sticky layer
UV/LED Soak off
Upholster: 15 ml

Suitable for very thin, brittle and brittle nails, allows you to correct some nail defects, you can strengthen the nails.
It is enough to cover the nail with one layer to achieve a smooth as glass and durable nail coating
Suitable for the procedure of nail extension base.
No flaking
Gel Polish with this base is worn for more than 4 weeks.
Advantages of the Ubeauty database:
Thick.
Easy for beginners to work with.
It is perfectly self-leveled.
It doesn't bake.
Without the sticky layer.
does not have a sharp smell, transparent

It can be added to the corners, repair (cracks).
Good gloss
Wearability of more than 4 weeks.

Easily and quickly removed with any gel Polish remover. Does not stain or damage the nail plate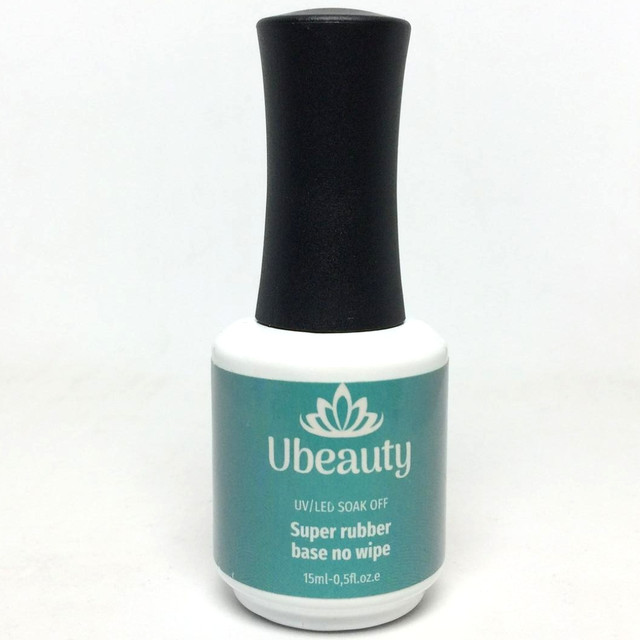 The base is thick, but it is well distributed and fills cracks. The brush is neat, thin and even, it is easy to draw a line at the cuticle
This base is universal, it is combined with all types of gel-lacquers, and can also be used as an independent tool if you need to strengthen thin nails
The base coating does not conflict with gel-lacquers of other manufacturers, can be used as a basis for fixing rhinestones and other decorative elements
The product itself is transparent, forming a neat, natural coating on the nails with a strong glossy sheen
The thick rubber base of the skirt Has a very neat, small brush. It is ideal for leveling the base on the nail and near the cuticle, as well as accurately drawing the smile line
 Suitable for beginners and professionals