Buy Dry-burning cabinet Microstop GP-10, sterilization of medical instruments, manicure, pedicure, for beauty salons whosale and retail
The process of sterilizing instruments in beauty salons is just as important as sterilization in laboratories and hospitals. Without this process, the tools will simply be unsafe to use, because after working with even a single client, they remain a lot of pathogens, dirt and viruses. Sterilization allows you to get rid of them.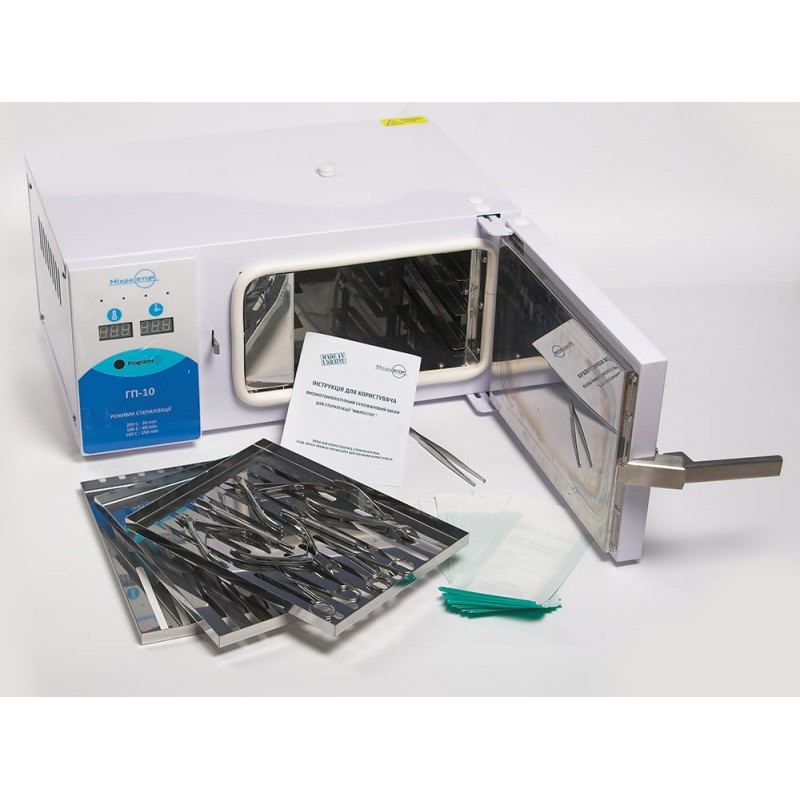 Air sterilization is the most common way to carry out this process. Metal and glass instruments are very effectively sterilized by air heated to a temperature above 150 ° C. Moreover, this process is absolutely safe for instruments, because it does not affect their sharpness or quality.
Air sterilization is carried out with the help of dry heat. And one of domestic firms just is engaged in the production of such equipment -Microstop company. She has already released about 10 models, each of which is famous for its reliability and quality. " style="width: 50%;">

Depending on the size of the dry heat released, it gains its popularity in certain places, for example, smaller models will be very convenient for small beauty salons , and larger models can even be used in medical laboratories, medical facilities and Beauty schools. The spaciousness slightly affected the ergonomics of this dry heat: it turned out to be larger in size and weight than its counterparts from the M series, however, at the same time, it accommodates several times more than they do. p>
In in this case, sterilization can take place at one of several temperature modes:
160°? -150 minutes,

180°C -60 minutes

200°C -30 minutes
Please note that the higher the temperature, the less time the sterilization process takes, but the air in the sterilization chamber will take longer to heat up (up to 15 minutes).
It is also worth noting the presence of another mode of sterilization. This mode is more similar to drying, therefore got such a name - the "drying" mode (80°? /30 minutes).
The sterilization chamber is made of stainless, heat-resistant steel, therefore it will last dry heat for a long time. In addition, its average service life is as much as 50,000 hours of continuous operation, which also indicates the durability and wear resistance of the dry heat.
Like any Microstop dry heat model, the GP-10 is also equipped with an electronic system that meets for emergency shutdown. The shutdown is triggered if the heating temperature exceeds 200 ° C.
For the convenience of setting parameters, the control panel has two displays, which make it convenient to track the temperature and time.
>
This dry oven has been tested for compliance with all sterilization standards, and has been approved by the Ministry of Health of Ukraine. Therefore, we can say with confidence that dry heat is safe and reliable.
Power
Network
< /tr>
Voltage (V)
230
Camera size (mm)
< td>300x220
Heating time to set temperature (min)
10-15
Deviation temperature from the set value (°C)
± 2
Number of instruments to be sterilized
Kraft bag - 6-9 sets
No kraft bags - 12 sets

Dry mode
Yes
< !--
Dimensions
-->
Weight (kg)
19
Dimensions (HxWxD), cm
55x43x26
Warranty
12 months